Photography Day Trip: Minnewaska State Park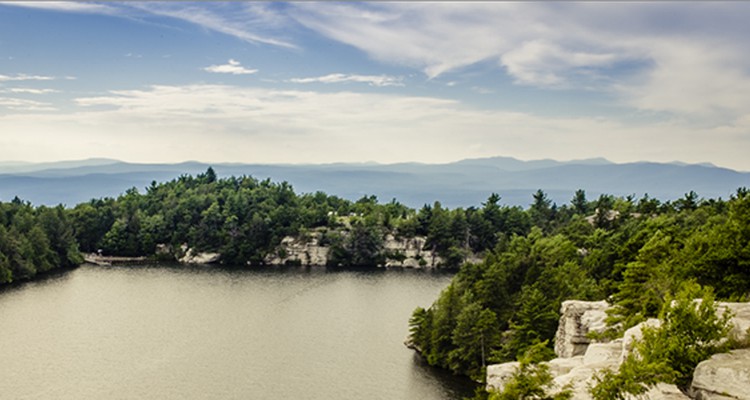 | | |
| --- | --- |
| Workshop | Photography Day Trip: Minnewaska State Park |
| Difficulty level | Intermediate |
| Duration | 12 hours |
| Group size | 7 students max. |
While you're taking it easy this summer, don't let your photography skills get rusty!  Join PhotoUno for our photography day trip to Minnewaska State Park Preserve!
 On this photo day trip, we will focus on developing memorable landscape compositions.  You will learn how to use light and weather to your advantage, how to compose a striking landscape photo, how to capture the spirit of a place, and more. Throughout the trip, you will receive personal guidance from your instructor regarding your process and technique.
If you're looking for a change of pace or a change of scenery this summer, join us as we escape the city and head for the majestic landscape of the mountains of upstate New York.
This trip includes:
- Transportation to and from Minnewaska State Park Preserve!
- Admission
- Lunch*
- Photography guidance from your accompanying instructor, Jean Paul Gomez.
*We will be proving lunch but if you want to bring snacks, or beverages you are more than welcome to do so. Please be prepared! You know your needs best, so plan accordingly.
(If you have any food allergies please let us know 72 hrs. prior to the event.)
Let's Go!!!
• What to bring: Camera and Tripod, Shutter Release Cable, Polarizer and Neutral Density Filters
• What to wear: Comfortable clothing and footwear. We will be doing a lot of walking!
• Meeting Place: PhotoUno Photography School 
• Time of departure from PhotoUno: 8:00 a.m. – Please arrive at least 15 minutes prior to departure. We want to get the most out of this trip and need to leave on time.
• Time of departure from Minnewaska State Park Preserve: 6:00 p.m.
• Estimated time of arrival at PhotoUno: 8:00 p.m. ** (This time is an estimate. The trip should take about two hours, however due to traffic it might take us longer.)
Space is limited to 9 students. If you have anymore questions please contact us. 
Pre-requisites:  Photography I, or, clear understanding of Manual Mode