Architecture Outdoor Photography Class - Lincoln Center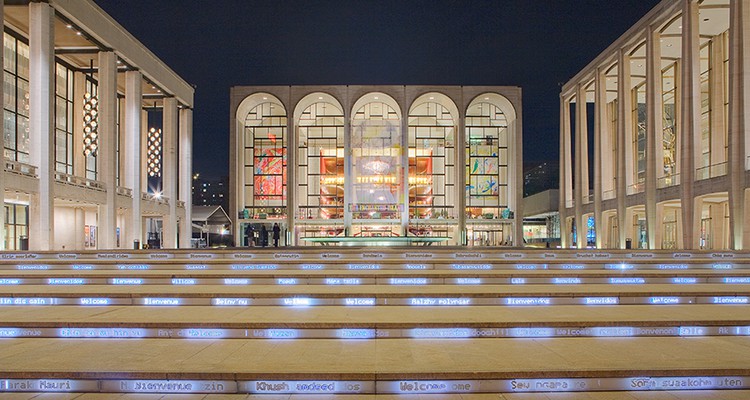 | | |
| --- | --- |
| Workshop | Architecture Outdoor Photography Class - Lincoln Center |
| Location | 70 N Broadway New York |
| Difficulty level | Beginners and beyond |
| Duration | 2 hours |
| Group size | 10 students max. |
This outdoor photography class has been designed for those who have an interest in architecture and want to capture the details of the most amazing buildings in New York City.
The outdoor class will be held at the Lincoln Center and will be under the direction of Luciano Landaeta (architect) and Patricia Burmicky (photography instructor).
We will have a brief introduction and review the history of this cultural complex. We will be guided to analyze the elements that constitute fundamental contributions to the architecture: a glance from the general to the particular, from the site to the windows mullions, and all the possibilities that can be captured through photographs.
A cultural enclave located to the West side of Broadway and its encounter with Columbus Avenue in the urban fabric of Manhattan.
Since 1956, it has been the place where the performing arts are housed for the Opera, academic music, theatre and converges with the Julliard School of Music to amply its creation spectrum.
It has been the "Agora" of the arts that Robert Moses visualized for the city of New York back in the 50's: a place where four neutral cladded buildings serve as containers of the arts.
Each building is enriched by details of design that reflect the architect's interest to make this place an epicenter of creation and a leisure destination for all inhabitants of NYC and visitors.
This location is ideal for winter as it will allow spending a lot of time indoors and buying a coffee if needed.
You will learn to look at it from far and near, from its volume and massiveness, to its elaborate and detailed façade. Discover New York City's architecture through the creative combination of the eye and the lens.
About the Architect: Luciano Landaeta is a highly accomplished architect who has worked for prestigious firms such as: Development Design Group in Baltimore, Santiago Calatrava in NYC and EE&K Architects (a Perkins Eastman Company) in NY. He has collaborated with Architect Andrew MacNair at Columbia University and has been awarded first prize in the Paris 2012 Olympic Bid and the Central Glass International Design Competition: Small Public Places in Japan. He has participated in ZAPP Urbanism Magazine and has given lectures at the Architecture Educational Congress in Egypt and the Architectural Triennial in Venezuela. Luciano has a MS in Design/ Urban Space from The Danish Design School in Denmark and has a BSA in Architecture from the Universidad Central de Venezuela.
About the photography Instructor: Patricia Burmicky is our featured photographer. Born in Caracas, Venezuela, to a Venezuelan-Slovenian family. She studied at the International Center of Photography in New York. Her work has been exhibited in Caracas, Venezuela, as well as at the Berlitz Art Space, International Center of Photography, A.I.R Gallery and Andrea Meislin Gallery in New York. She has assisted photographers such as Mary Ellen Mark, worked with an on-line magazine (UrbanDaddy.com), 25 CPW Art Gallery and has collaborated with architect Oscar Tenreiro in his articles about City and Architecture in the Venezuelan newspaper Tal Cual. Patricia has been awarded with the International Center of Photography Fellowship. She currently lives and works in NYC. You can see some of her work at http://patriciaburmicky.com and at http://visualsurfaces.tumblr.com/